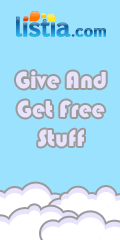 A member of Listia gave this away for free!
Do you want FREE stuff like this?
Listia is 100% Free to use
Over 100,000 items are FREE on Listia
Declutter your home & save money

"Listia is like EBay, except everything is free"
- Los Angeles Times

"An Awesome Way To Give And Get Free Stuff"
- Michael Arrington, TechCrunch
This Stuff is Free Too:
FREE
FREE
FREE
FREE
FREE
I will digitally deliver a well-known wiccan herbal remedy used by wiccans for cuts, burns, mouth ulcers, insect bites, and mild skin irritations. Wiccans use all natural remedies to heal themselves that are both economical and eco-friendly. I will send the remedy via Listia's Messaging System within 24hrs of auctions end. It will usually be much faster than that but I do allow myself the 24hrs just in case. Thanks so much for looking and Happy Bidding!
Questions & Comments