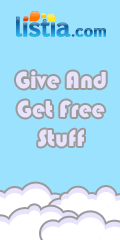 A member of Listia gave this away for free!
Do you want FREE stuff like this?
Listia is 100% Free to use
Over 100,000 items are FREE on Listia
Declutter your home & save money

"Listia is like EBay, except everything is free"
- Los Angeles Times

"An Awesome Way To Give And Get Free Stuff"
- Michael Arrington, TechCrunch
This Stuff is Free Too:
FREE
FREE
FREE
FREE
FREE
This is a recipe for Handfasting cakes. Upon winning this auction I will e-mail you the recipe. If you are the winner, please include your e-mail address in the first message you send me to avert any confusion. Thanks!!!

Thanks for viewing, Good Luck and Happy Bidding!!!
Questions & Comments